Market Analysis of Neuropsychology 2020
Sam Vaknin

South Federal University, Russia, Email:

[email protected]




This open-access article is distributed under the terms of the Creative Commons Attribution Non-Commercial License (CC BY-NC) (http://creativecommons.org/licenses/by-nc/4.0/), which permits reuse, distribution and reproduction of the article, provided that the original work is properly cited and the reuse is restricted to noncommercial purposes. For commercial reuse, contact [email protected]

Neurology Conference 2020 will focus destination for the International Neurology analysis Societies, Associations, and Organizations. This event can compile Neurologists, Directors, Neurosurgeons, Head of the department, Psychiatrists, Professors, Students from world and researchers within the field of Neurosciences, officialdom and world leaders to thrust ahead the Neurology department. Neurology congress 2020 focuses on board array of disorders and cures of brain and connects neurons. According to recent survey by WHO, it's seems that Neurological disorders Alzheimer and Dementia, Epilepsy and lots of accounts for more than 12% of deaths all over the globe on an average and it's also prophecy that the number of life vanish due to Neuro Disorders are except to increase from 95 million worldwide in 2015 to 103 million in 2030.The globe cost of Neurological squeal solitary estimate in 2010 was US$ 2.5 trillion and it's seems that the value will be in future around US$ 6 trillion in 2030.
Market Growth of Neuroscience
The worldwide neuroscience market size was value of US$ 28.42 billion in 2016 and is seems to grow at a CGAR of 3.1% over the predict period. High influencing factors, such as on-going neuro mapping research, neurosciencebased initiatives by government bodies and algorithms that are implement in neuroscience space, are seems to propel the market growth.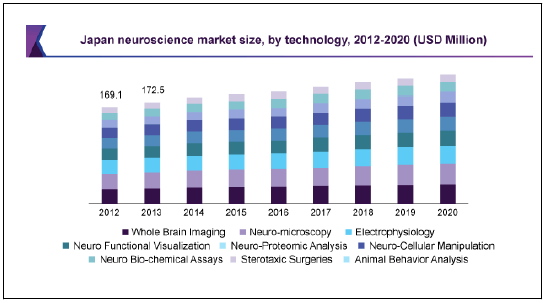 List of drugs manufactured for Brain diseases:
| | | |
| --- | --- | --- |
| Acetazolamide | Escitalopram | Lorazepam |
| Alprazolam | Eszopiclone | Midazolam |
| Bromocriptine | Fluphenazine | Nortriptyline |
| Buspirone | Fluoxetine | Nefazodone |
| Chlorpromazine | Gabapentin | Oxazepam |
| Codeine | Gepirone | Paroxetine |
| Diazepam | Hydroxyzine | Reboxetine |
| Doxapram | Haloperidol | Selegiline |
| Flurazepam | Isoflurane | Tryptophan |
| Desflurane | Ketamine | Ziprasidone |